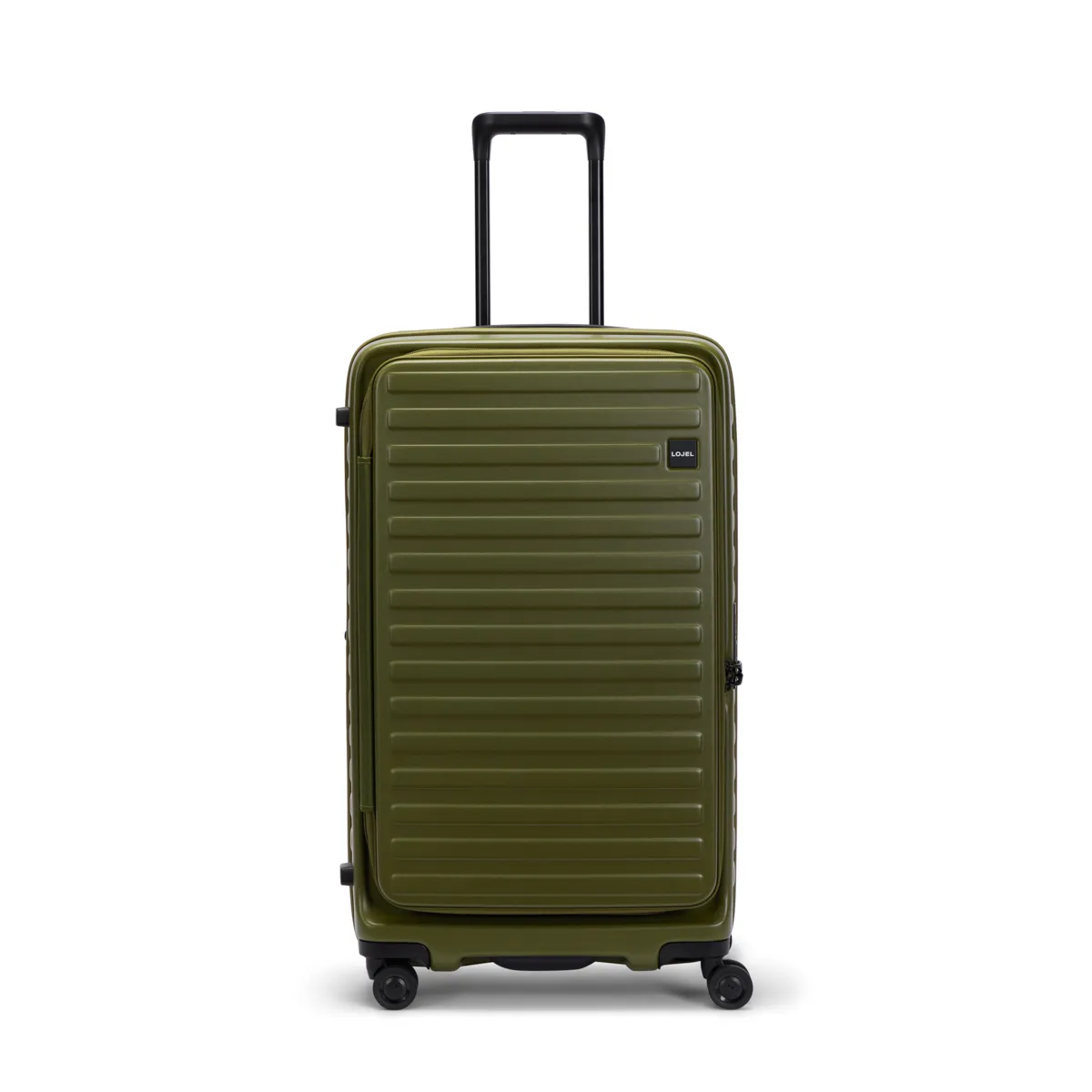 $410
4 installments of $102.50 with
More info
Adapt to any situation. Tiny hotel room? A clever flat-top opening gives you full access in tight spaces. Too many souvenirs? An expandable body makes space for everything. Prefer to pack organized? A compression divider helps you keep like with like. With a timeless look and smooth handling, this is the luggage to upgrade your travels.
Collection: Cubo
Material: 50% Recycled Polycarbonate + 50% Pure Polycarbonate Shell, Solution-Dyed "Mélange" Polyester Fabric, TPU non-hydrolyzing wheels
Size: Fit
Dimensions: 30×17.7×13.8(15)in, 76.5x45x35(38)cm
Trolley Handle Height (from floor): 34.6-40.2in, 88-102cm
Weight: 10.8lbs, 4.9kg
Capacity: 100(110)L
Warranty: 10-Year Warranty
LOJEL currently ships everywhere across the 48 contiguous United States. We offer free standard shipping (1-3 business days) on all orders to those states.
Your purchase comes with a 30-day hassle-free return policy.
Simply use this contact form to contact our customer service team.
We'll then send you a free return shipping label that you can use to return your purchase at no additional cost.
We will fully refund products that haven't been used and aren't damaged or altered from their original condition.
Please note that shipping costs are non-refundable.
Contact customer service immediately if you receive a LOJEL product that is in any way damaged.
🧳 LUGGAGE / TEN-YEAR LIMITED WARRANTY
⚠️🚨 FOR DAMAGE THAT OCCURRED DURING TRANSPORT ✈️🚄🚢🚌:
Contact the airline or travel provider as soon as you arrive at your destination. DO NOT LEAVE THE ARRIVAL/BAGGAGE CLAIM AREA UNTIL THE MATTER IS ADDRESSED. Airlines are responsible for damage to your luggage, but many have a limited 24-hour claim window. Taking action while you're still at the airport gives you the best chance of having your damage claim resolved.
At LOJEL, we take immense pride in our high-quality luggage and unparalleled customer service. We believe in the virtue of transparency and aim to provide a clear understanding of our warranty coverage. Our warranty is designed to address manufacturing defects, while also offering support for wear and tear wherever possible. Here's what you can expect:
1️⃣🥇 First Year of Ownership: During the first year from the date of purchase, we offer Hassle-Free Coverage. If your luggage experiences any damage, whether due to airline mishandling, accidental incidents, or other usability-impacting issues, we will repair or replace it for you, no questions asked.
2️⃣👉🔟 Years 2 to 10: From the second year onwards, our warranty covers manufacturing defects. If your luggage exhibits any manufacturing-related issues, we will repair it free of charge. Please note that repairability may depend on the availability of spare parts. We strive to support repairs as long as possible, but in cases where certain parts are unavailable due to design improvements or discontinued production, we will replace the defective luggage with a similar valued item.
🔟👉⏭️ Beyond 10 Years: While our warranty technically ends after 10 years, our commitment to our customers does not. If we have the necessary parts to address an issue with your luggage still available, we will provide them to you at a nominal cost of 10 USD.
We are deeply committed to sustainability and extending the lifespan of our products. Our goal is to keep your LOJEL luggage in pristine condition by offering repairs and replacement parts whenever feasible. Please understand that over time, availability of certain parts may become limited.
The above is a brief summary of our warranty coverage. We encourage you to review our warranty in detail. If you have any questions or need further clarification, our dedicated customer service team is ready to assist you.
Care Instructions:
Dampen a washcloth with a mixture of mild soap/detergent and water to wipe the surface of your luggage.
Use isopropyl alcohol or a melamine sponge for spot cleaning and a solvent to deal with persistent stains.
Run a handheld vacuum cleaner through the luggage interior.
Unzip the removable interior lining to machine-wash or hand-wash in cold water. Use only non-chlorine bleach.Tumble-dry in low heat. Do not dry-clean or iron. Zip back the lining once it completely dries.
Place a cedar-scented ball and a moisture absorber into the luggage to maintain freshness between trips.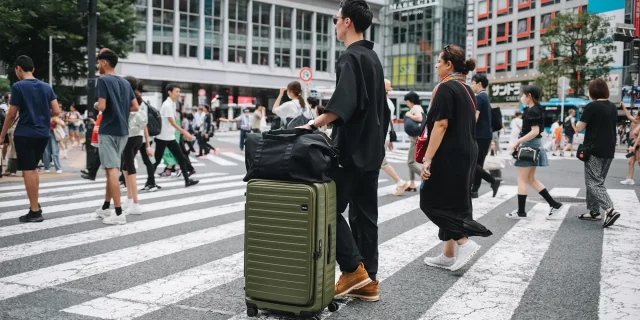 Adapt to any situation
Cubo's flat-top opening can fully open while leaving room for you to move. This space-saving feature ensures you can pack virtually anywhere throughout your journey.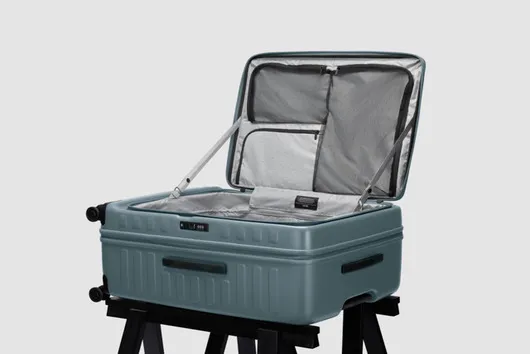 Smart Compartments
Zipper pockets on opposite sides of the luggage interior, two mesh pockets plus a padded tech pocket under the hood, and a 4-pocket compression divider allow you to organize items like never before.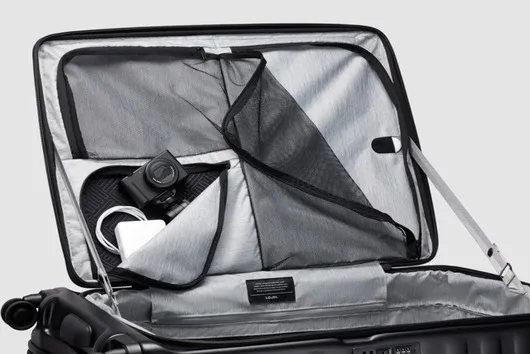 Room for More
Cubo's expandable capacity offers extra give whether you need to pack more than usual, have trouble repacking with the same efficiency, or purchase more items than intended on a trip.
Smooth, Stable and Silent
Improved 360° dual-wheels enable maximum stability and control, delivering a quiet, smooth glide in transit and balance when standing at rest.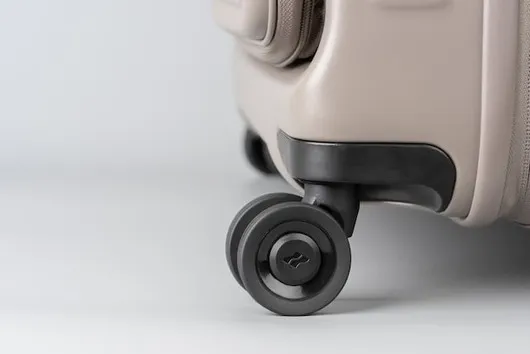 Confidently Compliant
Make security checks stress-free with a TSA-approved 008 combination lock. Guard your items, prevent check-in mishaps, and journey worry-free.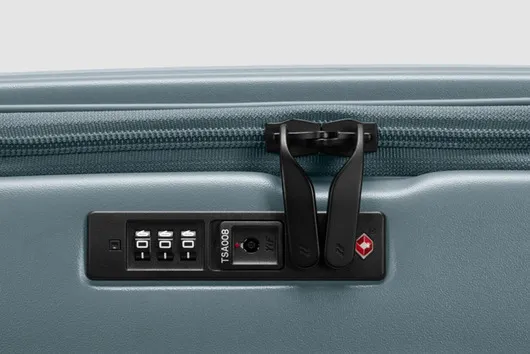 Extra Secure
Cubo's zipper design is more compact than most and features uniquely woven threads. The result is an abrasion-resistant system far less prone to intrusion, so you can feel confident your belongings are safe.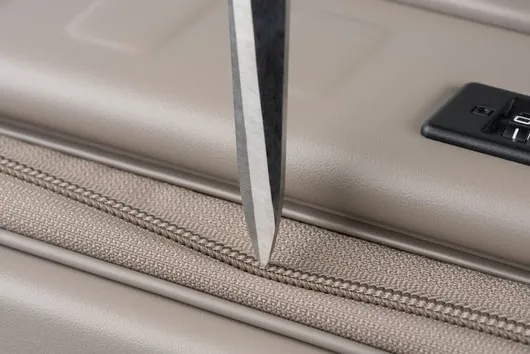 Fresh and Clean
Prolong the life of your luggage with uniquely removable and washable interior lining, a remedy for spills and hard-to-remove dirt. This hygenic feature keeps Cubo looking and smelling good as new after each trip.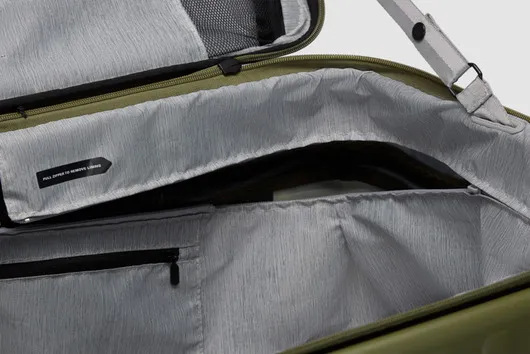 Conscious Choices
Cubo's shell, made with 50% recycled polycarbonate, and the solution-dyed fabric lining all over the luggage interior are durable alternative materials that use far fewer resources to produce than their conventional counterparts.