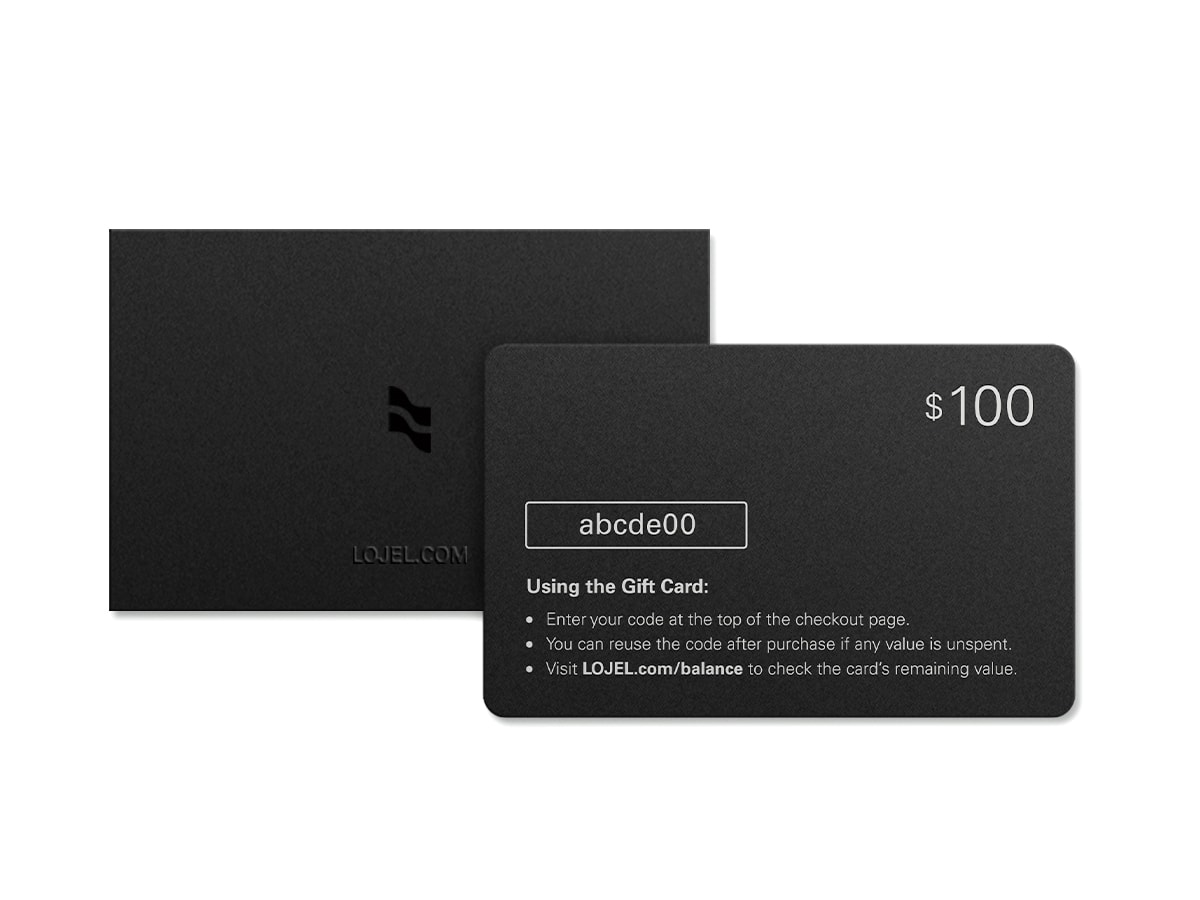 Gift Card
For all tastes and occasions.
Getting someone the right gift isn't easy.
When you aren't sure, it's better to let them choose.
LOJEL Gift Cards let them select the right luggage, bag, or accessory that suits their needs, lifestyle, and personality.
$100 – $500
4 installments from $25 with
More info
Where can I redeem my Gift Card?

Cards are only redeemable at us.lojel.com

Do Gift Cards expire?

No, they don't have an expiration date.

Can l return a Gift Card?

You may not return or cancel your LOJEL Gift Card after it is received.

I lost my Gift Card, what should I do?

Our gift cards are like cash, so we recommend taking a picture of the code on the card once received and store it in a safe place.

How can I check my LOJEL Gift Card balance?

Check your balance anytime here.

If I don't have enough money on the Gift Card to cover my online purchase, can I combine it with other payment methods?

Yes, once you run out of balance you can use any payment method we accept.

How can I see the transaction history on my Gift Card?

Please contact customer service to request the transaction history.

Can I combine multiple Gift Cards into one gift card?

Yes you can, please contact our customer service for that.

Can l pay for a purchase using multiple Gift Cards?

Unfortunately only 1 card can be used at a time however we can combine the balance from different cards into one. Please contact our customer service for that request.

Can I purchase a Gift Card with my Gift Card?

Yes you can.

Can I reload my Gift Card?

Yes you can, please contact customer service for that request.

Anything else l need to know?

Treat this card as cash. It will not be replaced if lost or stolen. This card is redeemable for merchandise only at LOJEL.com. Gift cards do not expire.
Redeemable at LOJEL.com for goods not exceeding the remaining credit balance on this card.
Your use of this gift card constitutes acceptance of these terms.
Balance Checker
Enter the gift card code to see any remaining value.